Infrared Heating Benefits
Solar like heating in your home
What is Infrared Heat?
Infrared heating benefits all begin with a form of electromagnetic radiation that sits just beyond the red end of the visible light range of the electromagnetic spectrum. Sometimes the word radiation is mistakenly associated with a harmful effect, but in fact, radiation is just a process of energy emission. Just like visible light radiation, infrared radiation is 100% safe and even our own bodies emit infrared radiation.
Infrared heat is the main reason why we feel warm when the sun is shining in the middle of a cold day. Our perception would suggest that if the air temperature was freezing, then we too would feel cold. However, this perception is not entirely accurate because heat energy can be transmitted through electromagnetic waves, the same way the sun heats our planet 93 million miles away. These waves are absorbed by our bodies and objects in our home or business, thus creating a warm perception and sensation of our environment.
Infrared Heating Benefits From Carbontec® Heating
Infrared radiant heating works by transforming electricity into infrared heat energy, which is beamed at solid surfaces such as ceilings or the floor, to warm the room. The emitted infrared energy is absorbed and reflected back by the surface area of a room, so that the heat is distributed in a uniform fashion. Radiant energy heats objects within your home or business; objects that have a thermal capacity which allows for the room to stay warmer longer.
Conversely, moving  or circulated air has little to no thermal capacity, such as in the case of traditional convection warmed rooms. Using conventional heaters, where feeling warm is mostly dependent on the temperature of the air, the immediate effect of chilling wind would disturb your comfort of feeling warm. For example, when a door is opened, the hot air will quickly escape requiring you to reheat the room to feel warm again. Infrared radiant heating is more effective to retain heat and help keep a home or business cozy. While using radiant heating the warm feeling will not immediately disappear even with open windows because Carbontec® heats solid surfaces directly.
Convection Heating
Radiant heat works differently from conventional convection heaters. Convection heating in the home works by warming up the air around you, which is a considerably less efficient way to heat a space. For instance, a radiator does most of its heating through convection currents and provides only very limited heating through infrared waves and doesn't allow you to achieve the maximum infrared heating benefits. When the radiator warms up, it heats the air directly around it, which then expands and rises. As the hot air rises, it creates a vacuum behind it, which pulls colder air into contact with the radiator, causing it to warm. As the hot air begins to cool down the air drops back to the floor level. This cold air gets heated again and this process keeps repeating itself – this process is known as air circulation or draft resulting from convection heating. This entire cycle has many opportunities to be inefficient, resulting in your furnace or boiler to work harder and use more energy to make up the difference in heat energy lost.
The Electromagnetic Spectrum
The electromagnetic (EM) spectrum is the range of all types of EM radiation. Radiation is energy that travels and spreads out as it goes – the visible light that comes from a lamp in your house and the radio waves that come from a radio station are two types of electromagnetic radiation. The other types of EM radiation that make up the electromagnetic spectrum are microwaves, infrared light, ultraviolet light, X-rays and gamma-rays.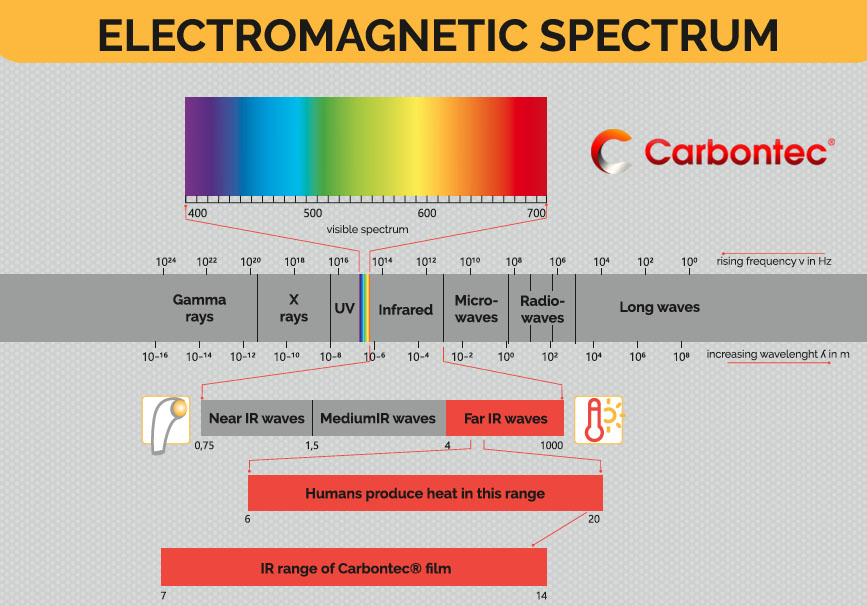 Carbontec® Advantages