Chapter 3: Types of Infrared Heaters
Infrared heaters can be classified according to their source of energy:
Electric Infrared Heaters
Similar to our infrared heating systems, electric infrared heaters utilize electricity to deliver heat to their surroundings. The heating system produces heat using the principle of Joule heating or resistive heating. Joule heating is the conversion of electrical energy to heat by passing an electric current to an element with high electrical resistance. The resistance of the heating element must not be as high as the resistance of insulators. The common heating element materials are tungsten, nichrome (80% Nickel, 20% Chromium), Kanthal (FeCrAl), cupronickel (CuNi), and carbon fibers.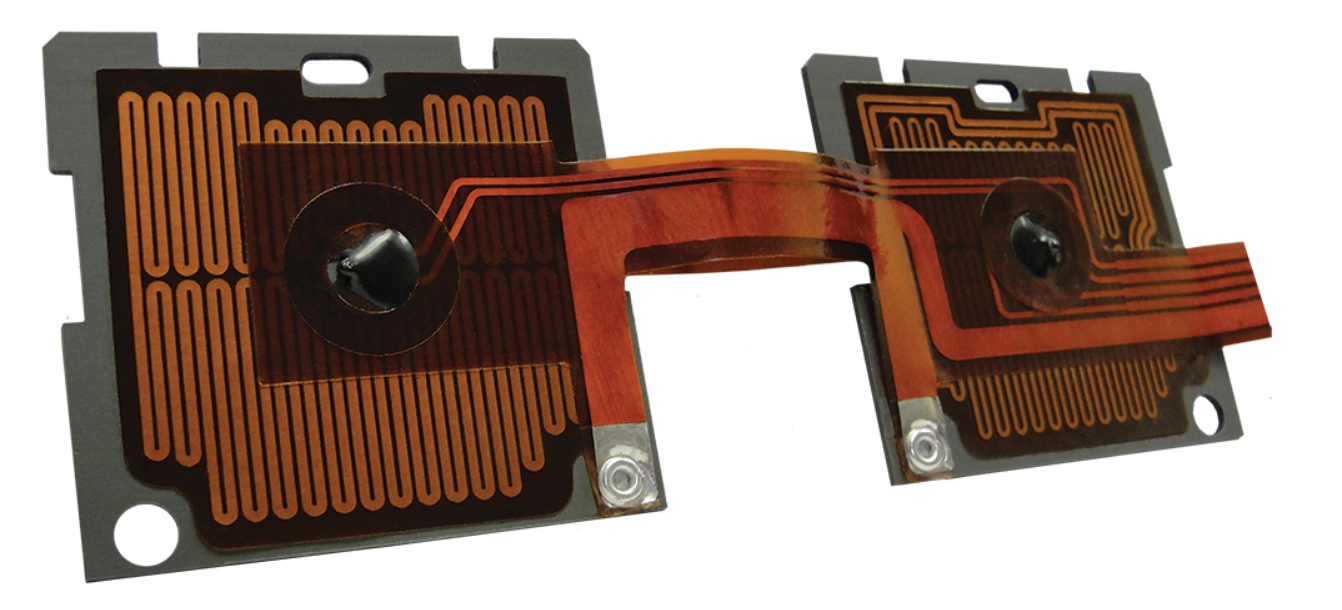 DuPontTM KaptonⓇ Polyimide Film and All-Polyimide Etched Foil Heaters from Heatron
Radiant Gas Heaters
Radiant gas heaters, also known as gas-fired infrared heaters, depend on chemical energy stored in natural gas, propane, or petroleum for the heat source. They also use a heating element that converts the heat energy from the gas flames into infrared electromagnetic radiation. The heating elements and the combustion chambers are contained in a metal, ceramic, or glass encasing. Some types of radiant gas heaters are:
Radiant Tube Infrared Heaters: In radiant tube infrared heaters, the gas-air mixture is combusted in a long steel tube, which heats up to 500 – 8000C and subsequently emits infrared radiation to its surroundings. It is one of the most popular decentralized heating devices in which heating takes place in the exact location it is required.
Luminous Infrared Heaters: In luminous infrared heaters, the gas-air mixture is directly fired through a porous matrix of refractory material that ignites and heats the surface above 13500F. Large amounts of radiant heat are released to the surroundings and can be directed where heat is desired. Luminous infrared heaters are unvented when operating, thus, proper ventilation is necessary.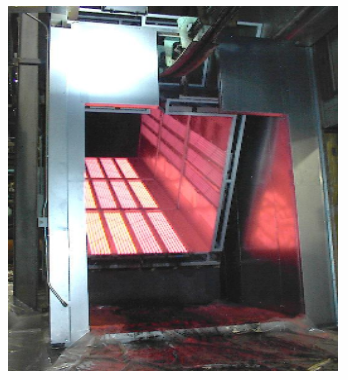 Gas Fired Infrared Heater from David Weisman
Infrared heaters can also be classified based on the wavelength of the infrared waves they emit:
Near-Infrared (NIR) or Short-Wave Infrared Heaters
NIR heaters produce infrared waves of around 0.78 – 1.5 microns in wavelength and operate at high temperatures above 1,300 – 2,6000C. Since these wavelengths have higher frequencies, they tend to be more transmissive and reflective but less absorptive to the surfaces they strike. Thus, they are less efficient and are not suitable for drying applications. They can produce harsh heat and can be felt 2-3 meters from the source but cannot provide warmth at a deeper level.
NIR heaters instantaneously warm the environment and are typically used in outdoor heating applications, unlike our infrared heating systems.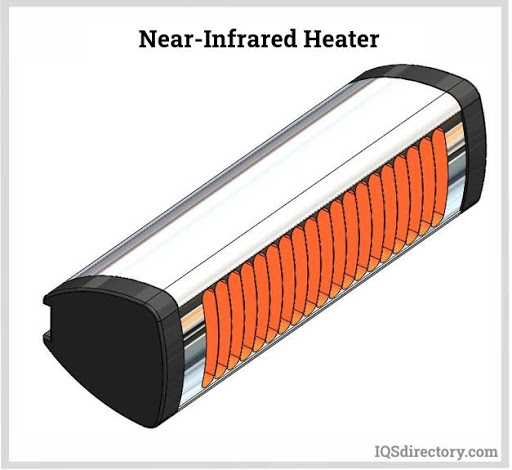 Medium-Wave Infrared Heaters
MWIR heaters produce infrared waves of around 1.5 – 3 microns and operate at 500 – 1,3000C. These wavelengths have lower frequencies, which are better absorbed by objects, but they are still not suitable for comfort heating. They are used in industrial applications such as drying and curing of paints, lacquers, and solvents as well as in the economic processing of plastic foils and sheets.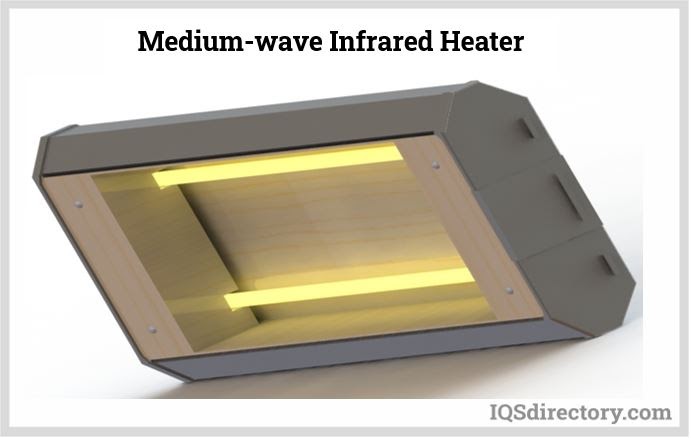 Far Infrared (FIR) or Long-Wave Infrared Heaters
FIR heaters produce infrared waves of around 3 – 1000 microns in wavelength and operate at lower temperatures. Since these wavelengths have lower frequencies, they are better absorbed by the surface they strike. Water begins to absorb the infrared heat in this spectrum.
FIR heaters produce comfortable heat that is optimally absorbed by our skin, which is further conducted into our tissues, blood, and the rest of our bodies. They take a longer time (around 5 minutes) to warm surrounding bodies. They are used in saunas, incubators, heating cabins, and other indoor heating applications.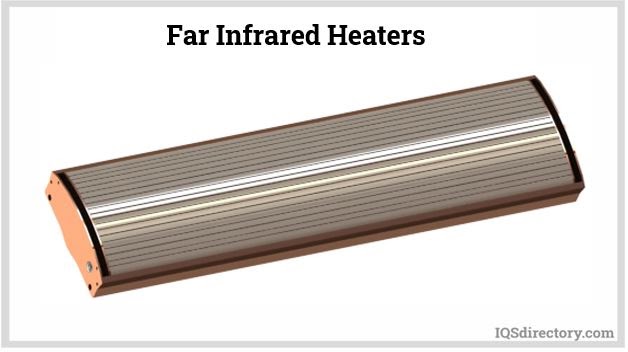 Some infrared heaters can be distinguished by their material of construction. A few of such infrared heaters are listed here:
Quartz Heat Lamps
Quartz heat lamps were developed by General Electric in the 1950s. They produce intense heat with a temperature above 1,5000C and emit medium- to short-infrared waves. They heat the surrounding bodies quickly. Quartz is used as the enclosing material protecting the tungsten heating element, which can withstand higher temperatures than glass. It is filled with highly pressurized inert gas containing halogens, gaseous bromine, or iodine that regenerates tungsten atoms in the filament and prolongs the service life of the heating element.
Quartz heat lamps are used as outdoor patio heaters and in several industrial processes such as drying, curing, and thawing of frozen products.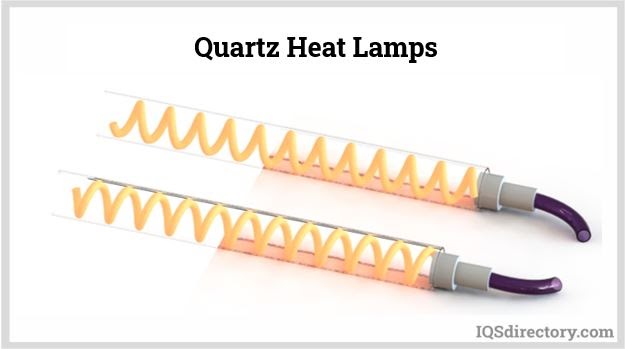 Carbon Infrared Heaters
Carbon infrared heaters have heating elements made from woven carbon fibers which are housed in quartz. They are also filled with halogen gas like quartz heaters. They operate at around 1,2000C and emit medium wave infrared. The carbon fibers produce gentler heat, and their light is less intense than tungsten. They also have long service lives like our infrared heating systems.
Carbon infrared heaters are used in heating spaces with large, draughty, and hard-to-heat interiors: public halls, café terraces, and covered outdoor spaces.

Ceramic Heaters
Ceramic heaters have a heating element that is directly cast into a ceramic material. They operate at 300 – 7000F and emit medium to long infrared waves with 2 – 10 microns in wavelength. The ceramic casting comes in different shapes: a flat-shaped cast spreads the infrared heat over a wider area, while the concave-shaped cast focuses the infrared heat into one spot. The surface is glazed to prevent corrosion.
Ceramic heaters are used in comfort heating and industrial processes such as paint drying, curing, printing, annealing, thermoforming, and packaging. Food processing industries and medical facilities employ the use of ceramic heaters.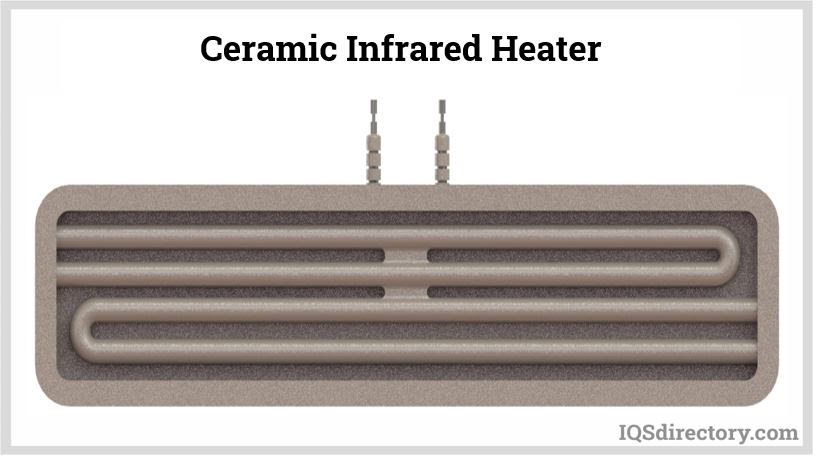 The following are a few types of infrared heaters categorized by their application:
Construction Heaters
Construction heaters are portable infrared heaters used in outdoor or indoor construction areas, and they can be installed over a tank top. They are used in spot heating. Construction heaters use infrared energy to radiate heat to their surroundings through a ceramic or steel surface.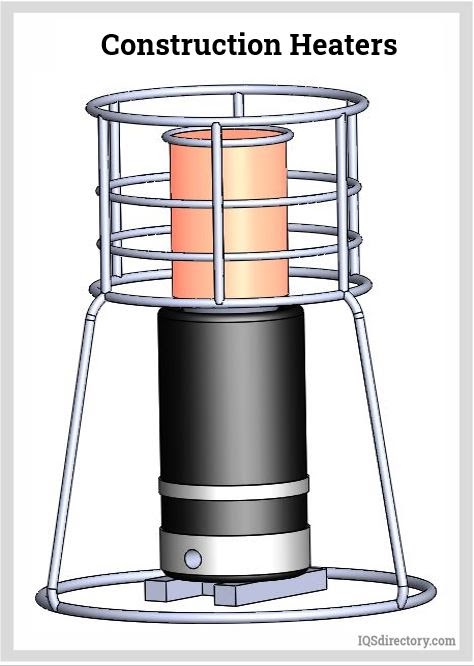 Over-Door Heaters
Over-door heaters are positioned in building entrances and frequently-opened doors where the inside air is noticeably hotter. These heaters use axial fans to generate a high-velocity air stream to rapidly heat the cold entering air; this avoids heat losses and saves energy. Which is also a factor in our infrared heating systems, however they do not make use of fans.
Over-door heaters are also known as air curtains. They can work in the opposite manner during summer to reduce air conditioning costs.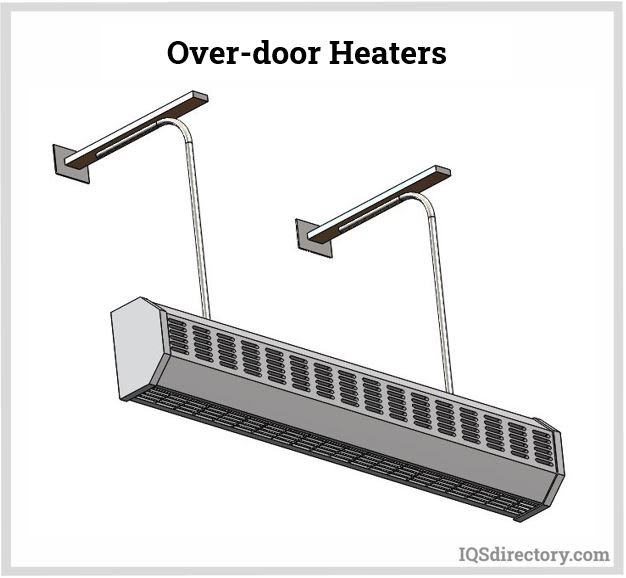 Garage Heaters
Garage Heaters are used in large spaces like garages and workshops, spaces that are not meant for insulation. They emit high-frequency radiation for the heat to penetrate the large area and warm the working personnel as well.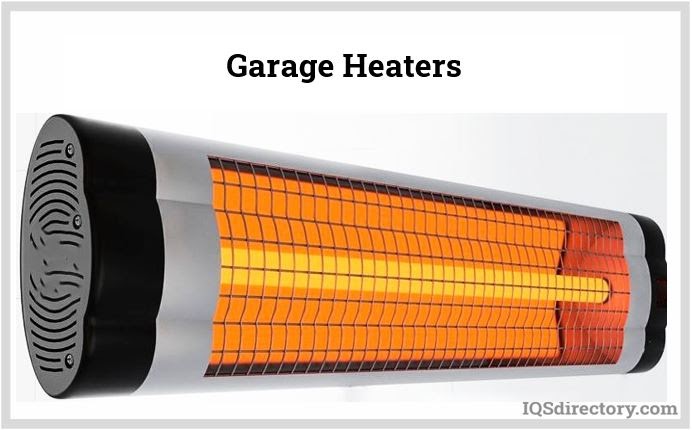 Warehouse Heaters
Warehouse heaters are used to heat large spaces such as warehouses where complete insulation and forced air convection heating are impractical.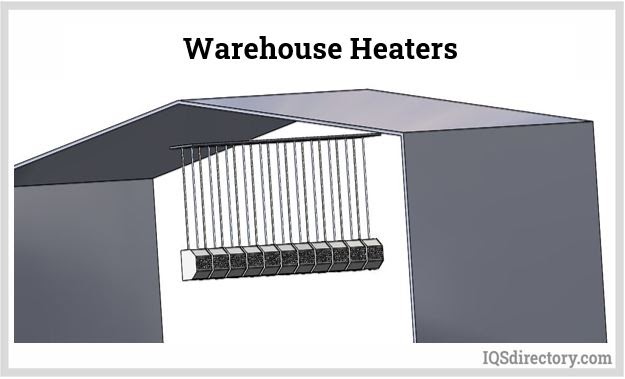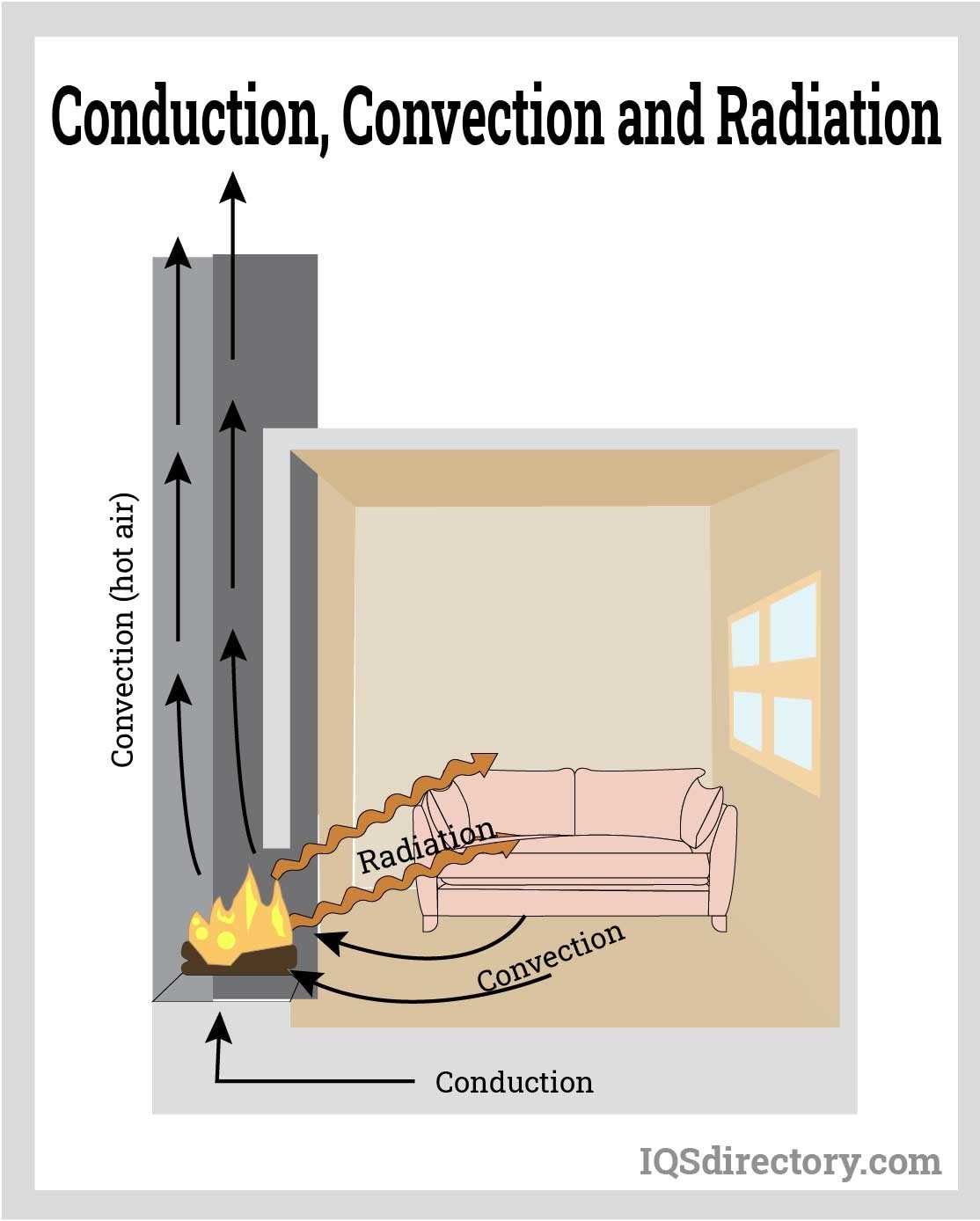 How do infrared heaters work?
Infrared heaters are composed of a heating system and a reflector. The heating system converts electrical energy or chemical energy from fuel sources into thermal energy. The reflector then directs the thermal energy produced by the heating system as radiant heat to the objects in its surroundings.
Reflectors greatly determine the efficiency of an infrared heater. They must have high reflectivity and must absorb minimal radiation from the heating system in order to store less heat. Their shapes and contours are designed to bend the infrared waves to space and prevent them from bouncing back. Other desirable properties of reflectors are high resistance to corrosion and moisture, ability to withstand high temperatures during their service life, and ability to be easily cleaned.
Reflective materials that are commonly used are aluminum, stainless steel, ceramics, and quartz. Some reflectors are plated with gold or ruby to increase their reflectivity and focus more heat on the surrounding objects.